In this section, we would like to explain how we work and what precisely happens at Oltrelingua from the moment you contact us to request our translation services to the delivery of the final text.
We commit 100% of our resources and energy to creating quality work, delivering translations that meet your high standards, and perfectly matching the original in both content and form.
The success of a translation project is based on the collaboration of three different professionals: the agency's Project Manager, the Translator and the Proof-reader all work in synergy to deliver an effective and accurate translation.
Communication between the agency and the client is also very important. The agency's Project Manager will maintain, for the duration of the project, constant contact with the client in order to receive requests, provide updates and request their opinion. We will work together until the customer is completely satisfied with the translation.
Some agencies provide different levels of quality at different prices, others offer cheaper rates while excluding an essential service, such as revision. These are nothing more than deceptive marketing strategies that are detrimental to the quality of the translation. Paying for a poorly done translation is not only a fruitless expense, it is also damaging to the ultimate goal of the translation (mistranslations may also give rise to legal consequences). Oltrelingua does not provide different levels of quality. For us, there is only one quality standard that is acceptable for customers: the best possible.
Our translation process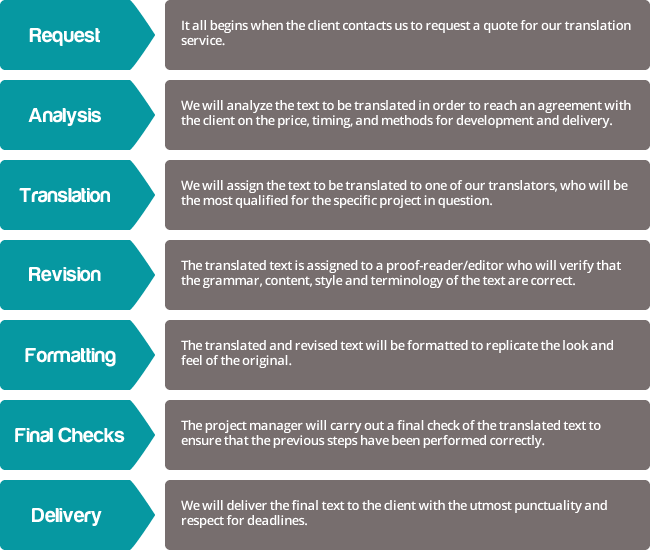 This is what we do. We are serious and competent, which guarantee an efficient service and quality products. For more information or a free quote, please do not hesitate to contact us!